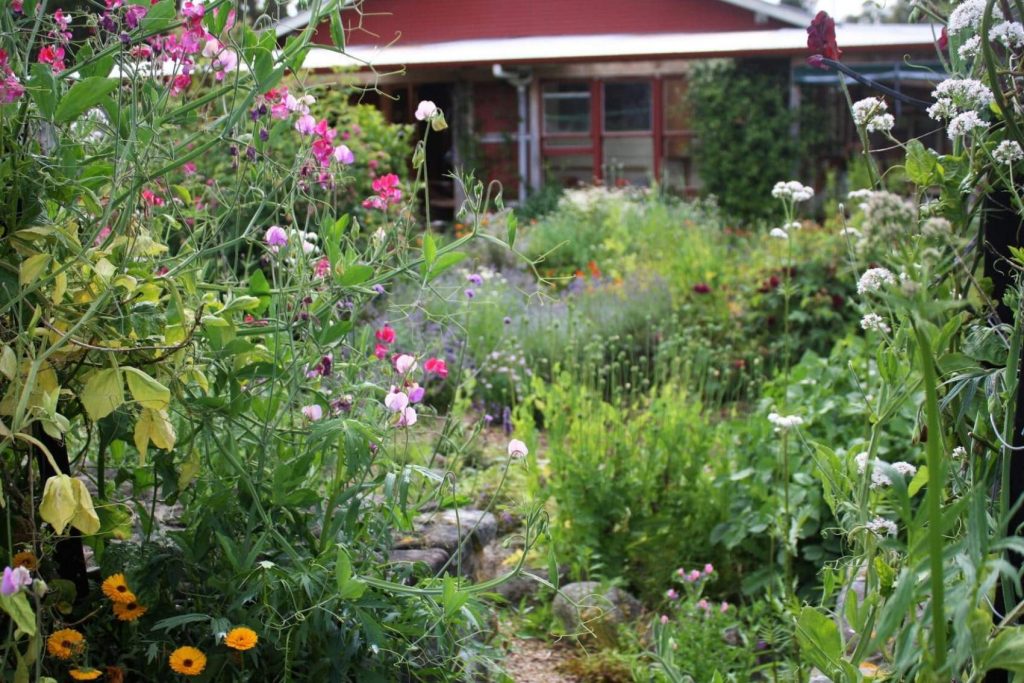 The most important mission this month, is planting and sowing. Drop everything else and focus on getting stuff planted! Especially long term crops like kumara, yams, pumpkins and peppers – they really need to get in ground this month. If soils not quite warm enough, jazz up some heat for them.
Once the long term crops are sorted, turn your attention to the successional crops that can be drip fed in a little and often way throughout summer. Here's an example
Once a month until January plant one zuchinni, one cucumber, a dozen salad greens, a few tomatoes and a row of dwarf beans
Sow a new lot of corn every fortnight through until December
Sow beetroot, rocket, coriander, radish and basil every month
Slow and steady my gardening friends, turns your veggie patch into your veggie shop
What to plant and sow in November
Sow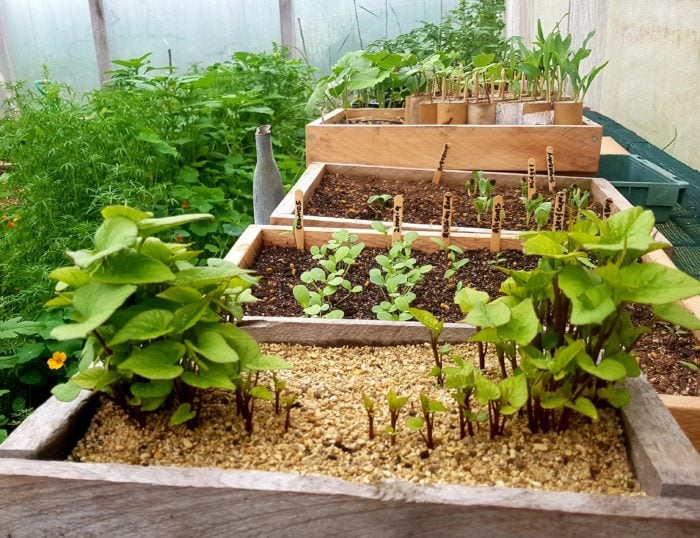 Direct Sow
Rocket, spinach, coriander and saladings – all in a bit of shade. These 4 do so well tucked beneath longer term, bigger crops especially if it gets hot and dry at yours.
Cornflower, cosmos, phacelia, crimson clover, buckwheat and calendula for living mulches around plants that need pollination. Think of your flowers like your crops – a steady succession to keep your garden buzzing.
Tray Sow
Spring onions, sunflowers, marigolds, zinnias, geums, mignonette
Dwarf beans, climbing beans, shellout beans, soya beans, cucumbers, zucchini, squash, tomatoes, basil, corn – into warm seed raising mix
Direct or Tray Sow
Dwarf beans, soya beans and basil can be direct sown if the soil is warm enough. Otherwise tray sow.
Transplant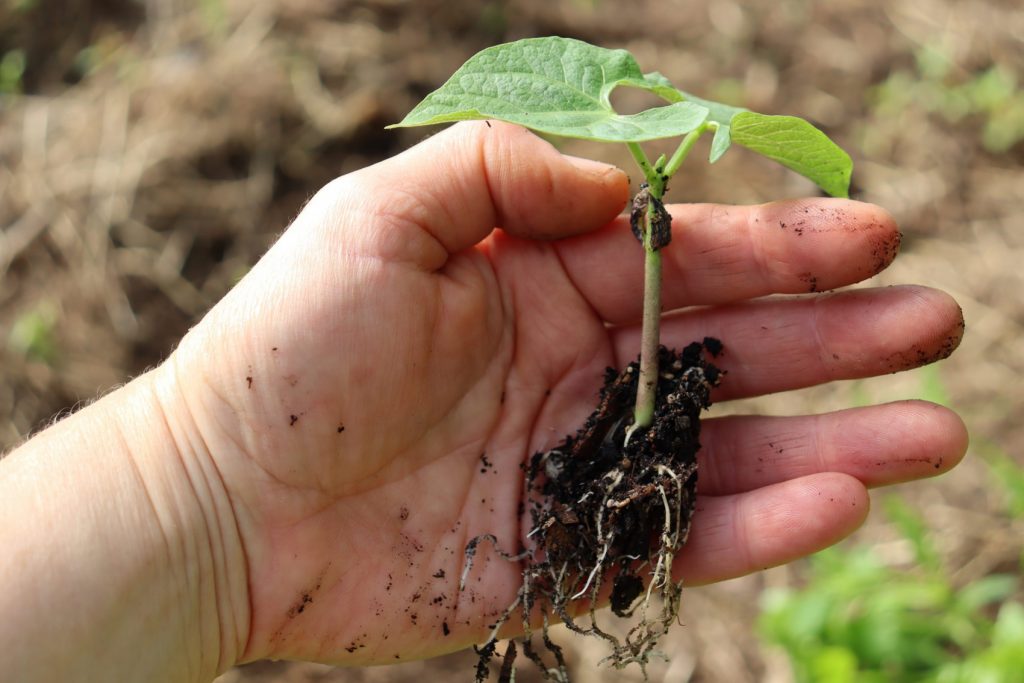 The soil in my outside vegie patch has only just landed on 15 degrees. A week or so here and I'm good to go for planting beans. Add a few more degrees and zucchini, cucumber, corn, kumara and pumpkin will be in their happy place and thus, grow like billy-oh. Patience is rewarded.
Globe artichokes
Red onions, spring onions, potatoes and yams
Saladings and leafy greens – in the afternoon or morning shade if its hot and sunny at yours
When soil reaches 18 -20° pumpkin, kumara, corn and beans can finally hit the ground
Plant tomatoes, basil, soya beans, peppers, chillies, aubergines, zucchini, cucumbers, marigolds and melons into toasty warm soil whether that's outside or in the greenhouse
Garner more from your space than you ever thought possible, by stacking new seedlings beneath established crops. Eek out harvests from the older crops while they nurture their young replacements.
November Checklist + Things to do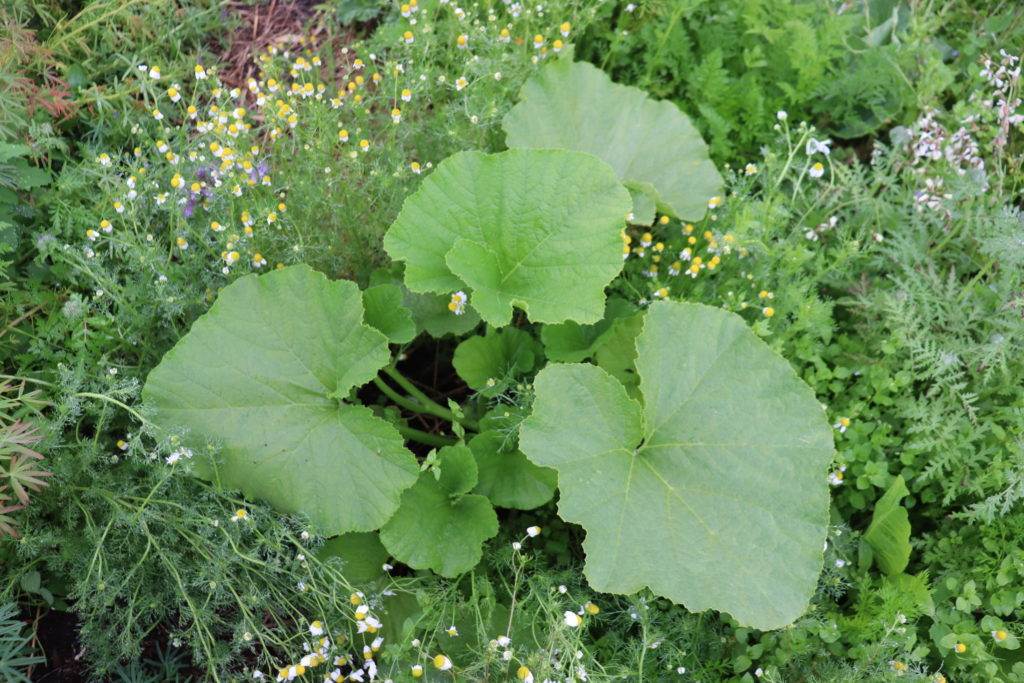 Get in the habit of a daily wander to squash pests, whip out the odd weed, check in on new seedlings and oversee plant health.
Weeds get going in earnest! The 2 best ways are smothering the weeds with mulch or slice the tops off with a niwashi or hoe. Densely planted gardens win all the way here, largely relieving you of this task. Pay special attention to young seedlings, asparagus, all the alliums – onions, garlic, leeks, and small guys like saladings and strawberries for instance. A little weed on a regular basis is the ticket. For best fertility and sanity, get weeds while they are small.
Perpetual beet, winter saladings and parsley are heading off to seed. Let some of them go! They'll feed the beneficial insects on the way to providing a new generation of plants for you late summer.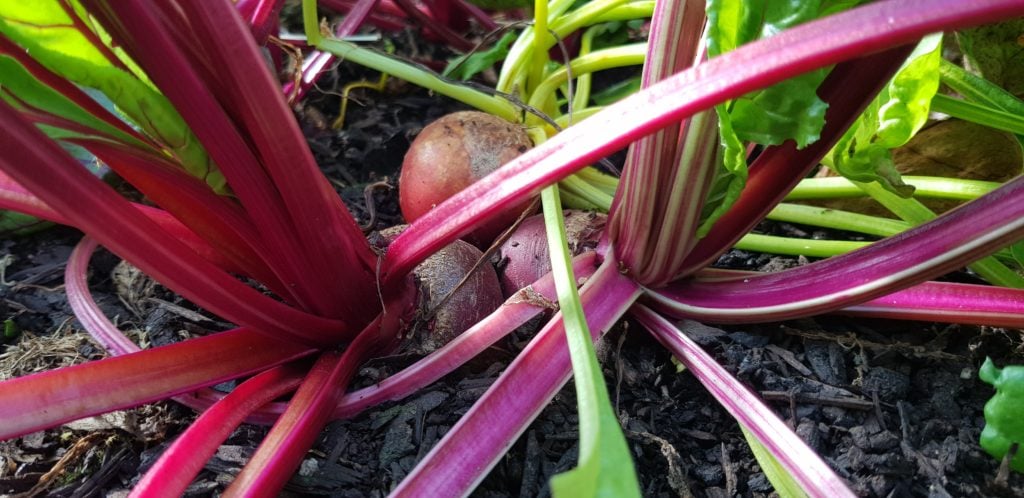 Check root crops to see whether or not they need a thin. I leave beetroot and onions in little groups of 3 – 5. Carrots and parsnips I like to thin progressively as they grow – starting with perhaps 1cm between seedlings. They grow better by far in community, especially while they are small. I do a quick pass over every now and then, and thin for a little more space each time.
Check your garlic. Dig one up to see if its forming bulbs and harvest is nigh. Fresh garlic – hurrah!
Protect all potatoes with wondermesh, or other cover of choice, to keep the psyllids out.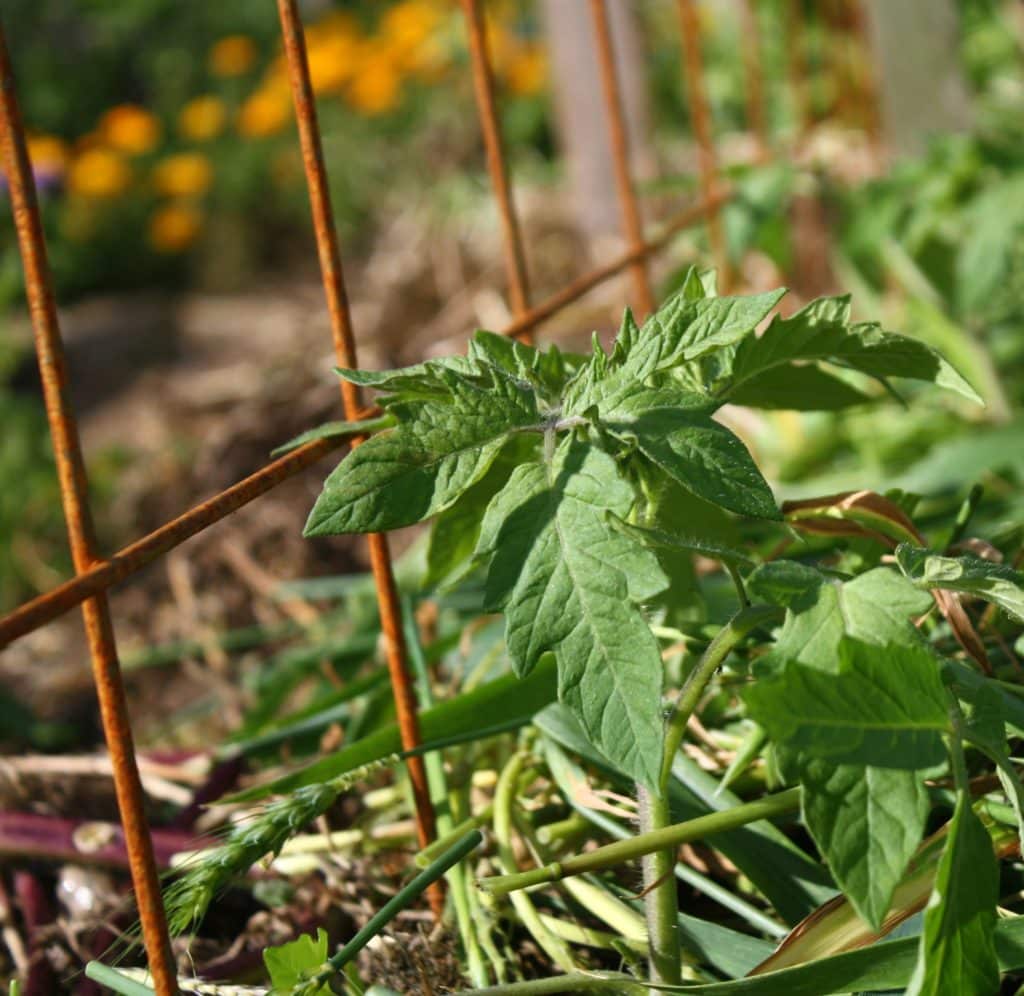 Set up robust frames for tomatoes and beans
Forage for OM (organic matter) in the community. .. cardboard, spoiled hay, manure, seaweed… Chances are your stash has dwindled with all the spring plantings. Ensure you have something to hand for side dressing and mulching summer crops.
Make a compost pile (or four!) with all your spring clean up. Such lot of ingredient about right now. Theres nothing that will get your garden humming, like your own compost.
Brassica free = cabbage butterfly free!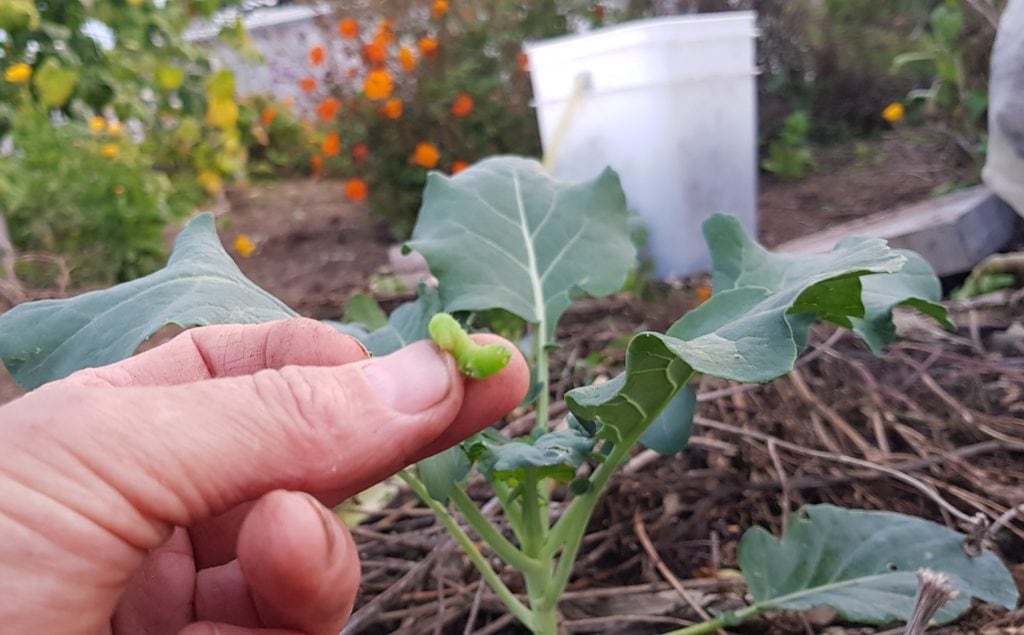 You will notice there are no brassicas on my November planting list. That's cos cabbage white butterflies start-up soon and I'm not that keen on managing them. Besides which we've just had 8 solid months of eating broccoli and cabbage – it's time for summery things!
If you are growing spring brassicas, either cover the crop or commit to managing them digitally.
Insect mesh, the same fine mesh that keeps psyllids off your potatoes, will keep the butterflies from laying eggs on your precious cabbages, thereby preventing the caterpillars in the first place. Although the moths look haphazard, they are brassica seeking missiles, so cover your crops in an obsessive no holes way. Any little gap and they'll be in there laying up a storm.
If you are home for a daily garden walk, then flick off eggs and squash caterpillars. The advantage of leaving brassicas uncovered is that parasitic wasps can access the caterpillars and take care of them for you.
Derris dust alert! Let's stop with the Derris Dust. I know its easy. I know Grandma used it. But it's super toxic! Rotenone, the active ingredient in Derris dust is a neurotoxin (why would ya go there) and fatal to many of our important beneficial insects – parasitic wasps, ladybirds and dragonflies to name a few.
Give your seedlings the best start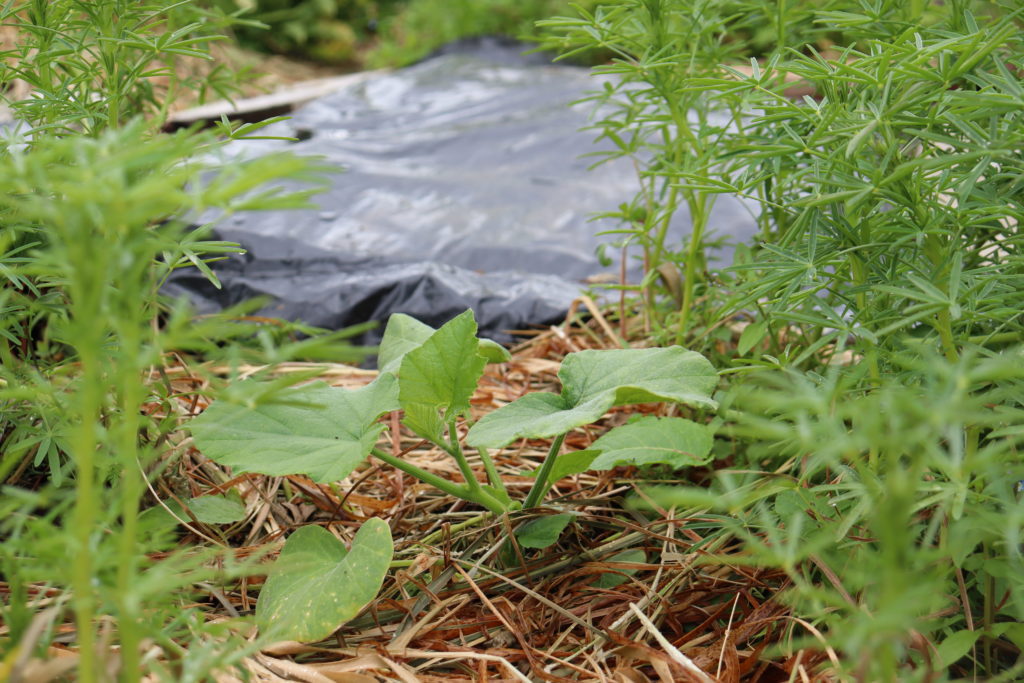 A strong start makes all the difference.
Planting a puny two-leaf seedling in the garden is like kicking your 4-year-old out of home – too vulnerable! Leave seedlings in their pots until they are sturdy enough and their roots fill the container out.
Make the transition from the cosseted world of the pot to being planted in the garden a gradual one. Leave seedlings outside in their pots for a few days and nights to get acclimatised.
Shelter them if the weather is still up and down at yours by planting amongst greencrops or beneath older/ nearly finished/ heading off to seed crops. Or build a make shift, protective something – an old window positioned to block the cold air, some clear plastic stapled to stakes, or a clear bottle with its bottom and top cut off + slid over top. Ensure good airflow, it doesn't take much to modify the temperature.
In the greenhouse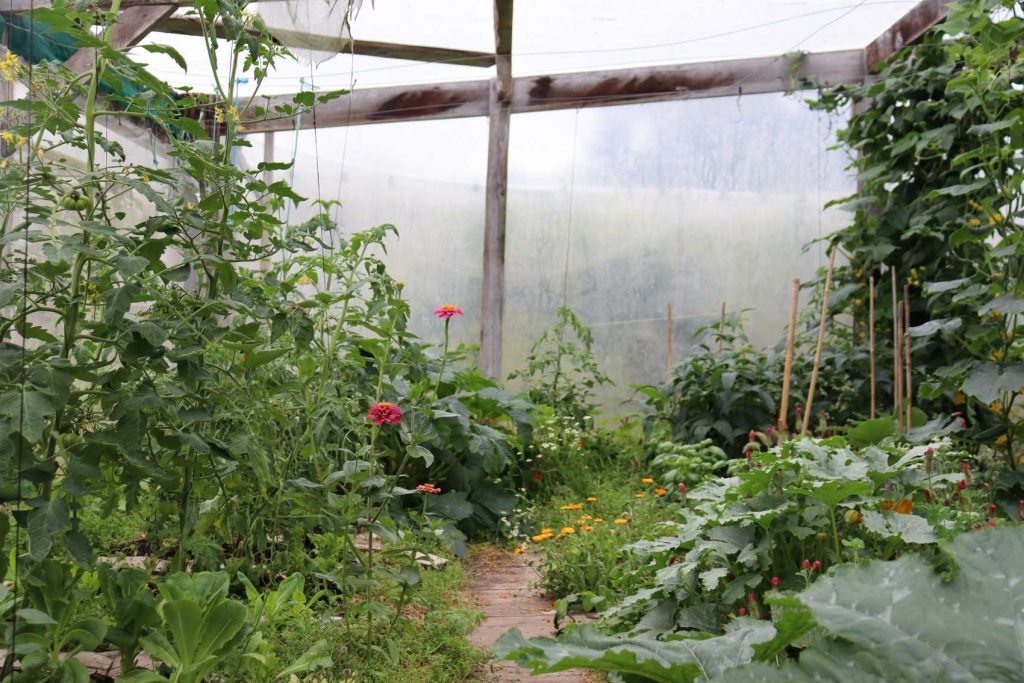 A greenhouse is a high-stress environment, all that plastic and heat makes it so. It needs a bit of TLC to get through the summer. Start it off strong with healthy seedlings and excellent compost for glorious humus rich soil to keep plant immunity + production high.
A weekly biological feed keeps cells strong, boosts nutrient uptake and both of these things together prevent sucking bugs.
Leave a bit of wild in your greenhouse to provide an ongoing mixed mulch – the very best soil conditioner! Sow greencrops/ companions in every gap and let them flower away to entice the bees in. I use nasturtium, borage, mustard, lupin, African marigold and shoofly. Chop them back when they encroach on the crops and pile on the soil as mulch.
Tomatoes, dwarf beans, zucchini, melon, eggplants, chillies, basil and cucumbers are growing like rockets in the warmth. Keeping an eye on soil moisture hits the job list. Not too wet, not too dry – just right!
Pruning greenhouse tomatoes is in. I do this to create single leaders that'll grow up strings. The airflow is important for disease prevention, and it makes spraying and picking a dream.