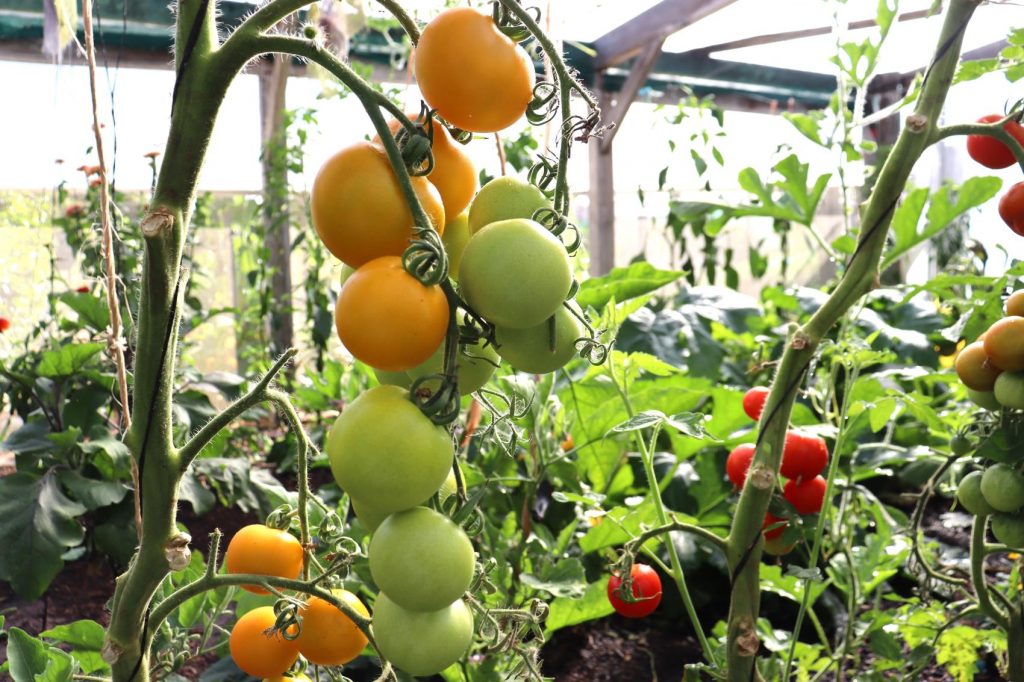 A single leader tomato is a very fine thing.
Easy to support. Easy to pick. Easy to spot pests. Easy to spray. But most important of all in my high rainfall not reliably hot climate – plenty of airflow and sun for best health + ripening.
A single leader best suits tomatoes grown up strings in a greenhouse. The leader is wound around the string as they grow.
Tomato Laterals + How to Remove Them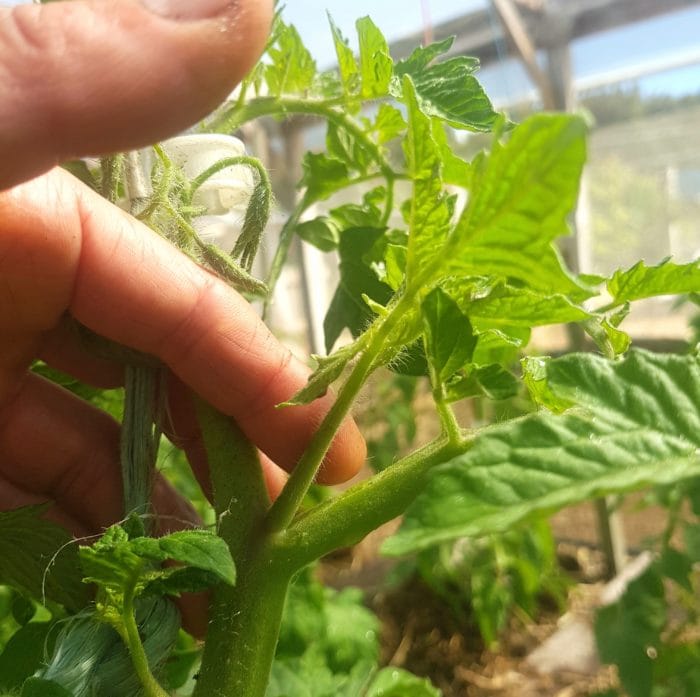 The shoot beneath my finger is a lateral. Laterals are the growths that appear in the crook where the leaf meets the stem.
These all need to come off to achieve a single leader. Best done when they're small. This way the wound is mini and heals lickety split.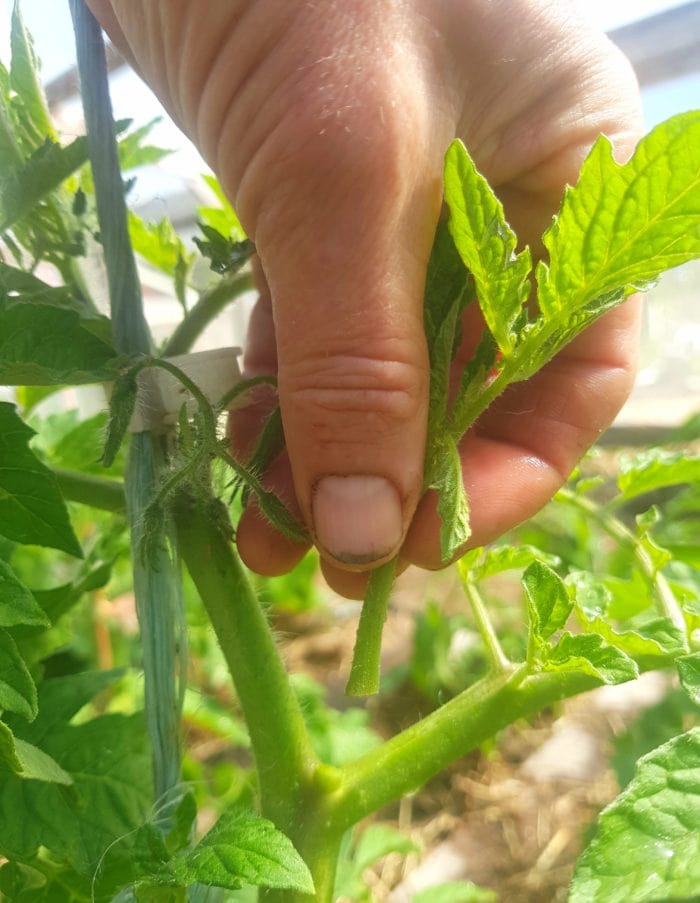 Go through a couple of times a week snapping them off. Start at the bottom and work your way up. If done regularly its a quick job with only 1 or 2 new shoots needing removal at a time.
If by chance a lateral gets away on you, you can either prune it off or keep it and wind it around another string or stake. 2 leaders. No worries. If you are using a trellis or mesh frame you can let 3 go if you so wish.
Peppers + Aubergines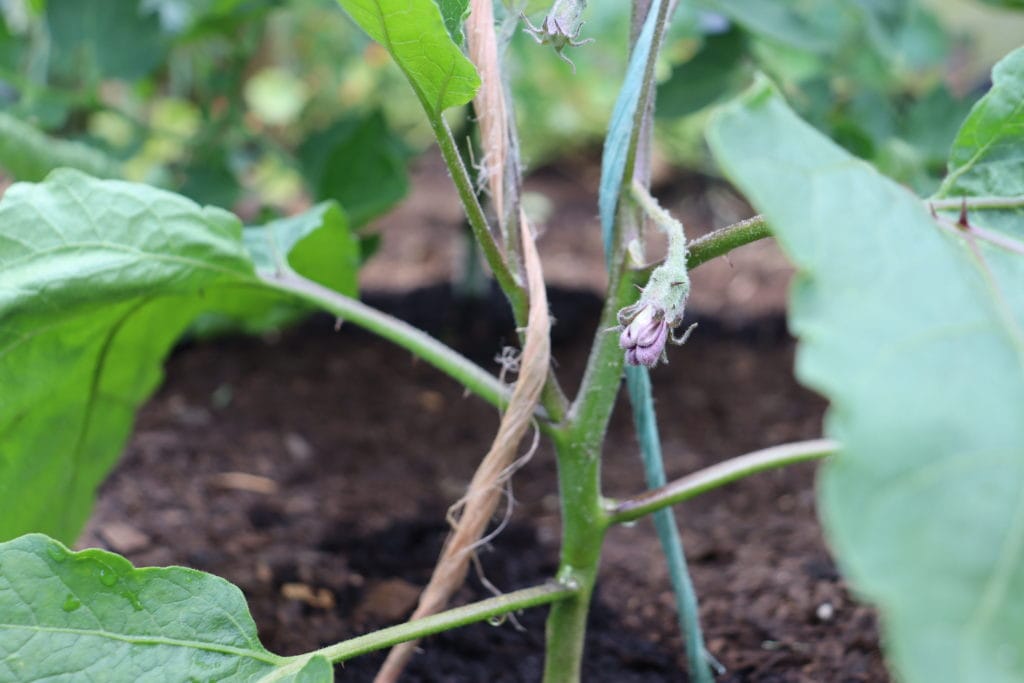 Peppers and aubergines aren't as vigorous as toms, so to make up for this, I create 2 leaders. The extra leader brings opportunity for twice as many fruits.
After transplanting, pinch out all the laterals in the same way as tomatoes, to create a single stem. This single stem keeps fruits clear of the ground and gives your plant a sturdy base.
Once it reaches about 20cm, let a well placed lateral – one facing the opposite direction, shoot away. This will become the 2nd leader.
When both leaders have enough vigour, start winding them around their own string. The strings are put in place at planting – with one end tied to overhead wires on the ceiling and the other tucked beneath the plant. Such a strong support system.
An alternative is to use reinforcing mesh or trellis for a frame – in which case you could let three or four leaders go.
Both aubergines and peppers bear weighty fruits – a strong frame/ support is essential! Especially for peppers who have the breakiest branches, sitting ducks for snapping off under weight of the heavy fruits.
Get Rid of the Old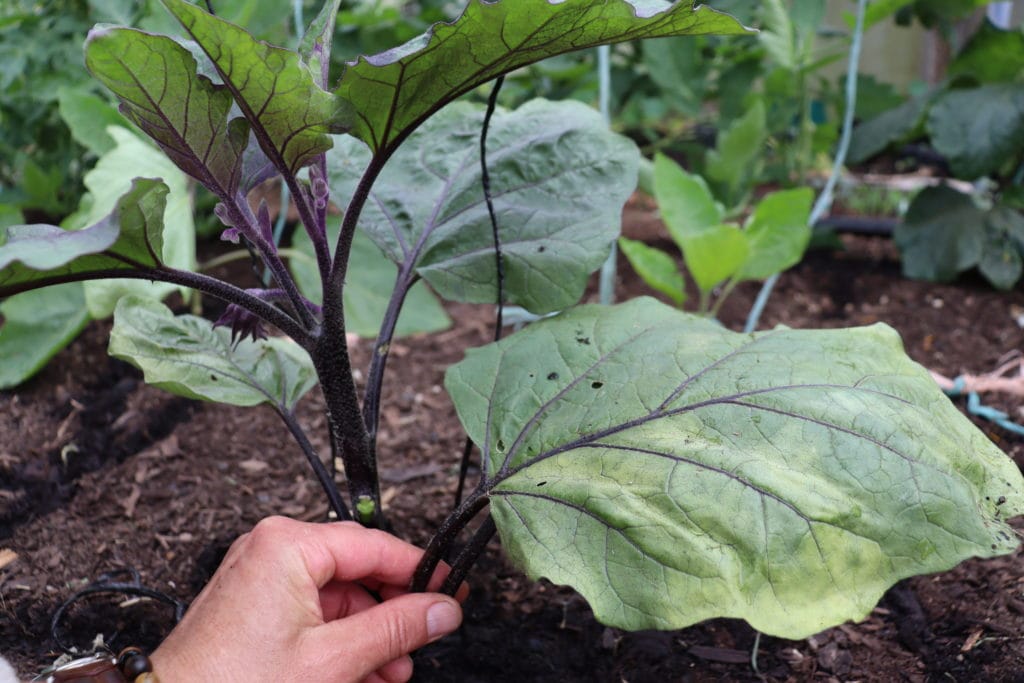 At the same time you delateral, snap off bottom leaves as they yellow, and once fruiting starts, snap off foliage that blocks light to fruits.
Keep things handsome + fresh, my friends.