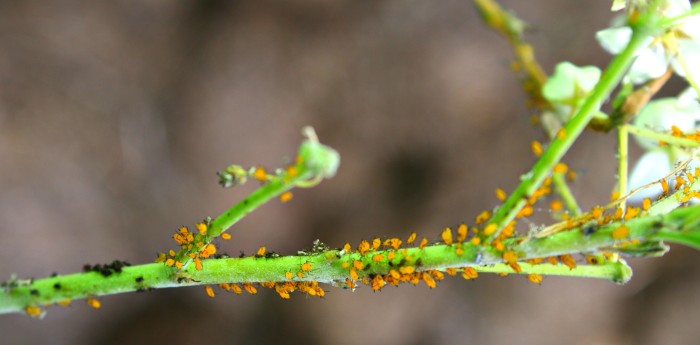 Heat and harvest come to this – pests. It's easy to malign them, "Damn things!" But pests are not malicious. They've come because you've served dinner.
Aphids, leafhoppers, scale, thrips, green vegetable bugs – put a feed out, create the perfect environment and they will come! Pests are just a part of playing in nature – for a peaceful life it helps if you adjust your mind to this fact.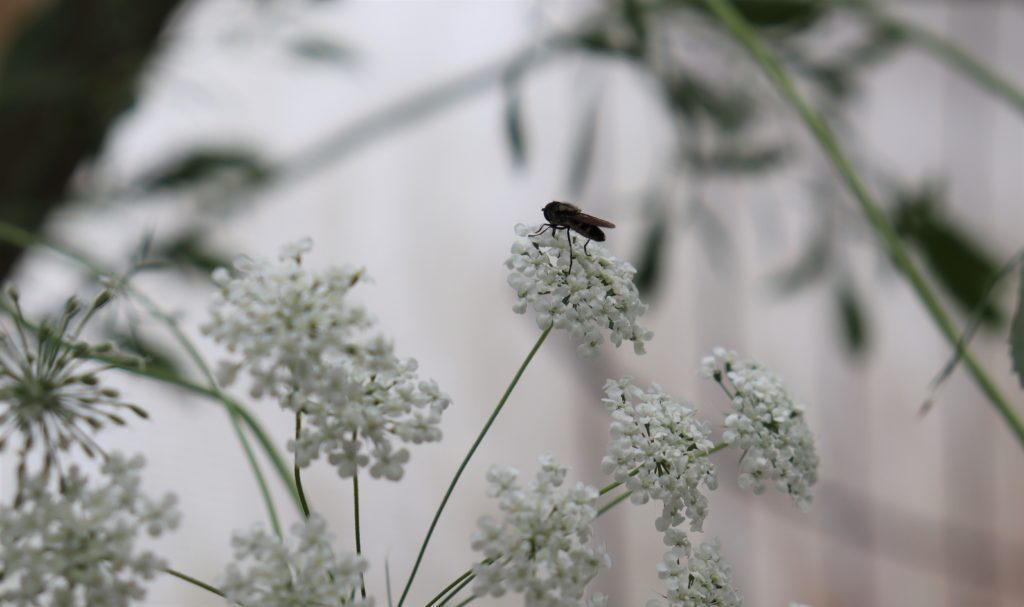 But don't get stuck thinking pests are inevitable cos they aren't! Nature is all about checks and balances. The gardeners job is to create the right environment for these to play out.
Let's look at all the bits that add up to a garden with low pest numbers. It takes a bit of time but the end results are extraordinary – beautiful abundance inside and out.
Beneficial insect power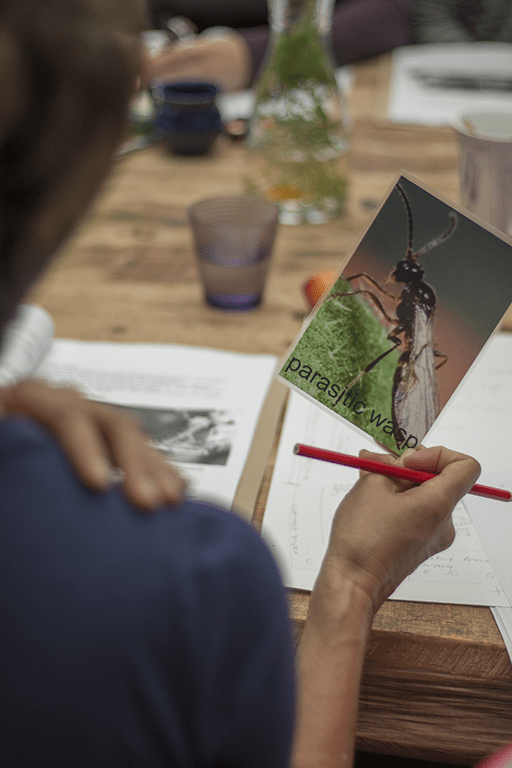 Beneficial insects are your go to smart solution. There's an army of insects on your side – parasitic wasps, hoverflies, ladybirds, praying mantis, spiders, dragonflies, assassin bugs, lacewings, various beetles, frogs and even earwigs.
They'll manage pests, pollination and recycling of debris in return for a safe haven and a years supply of food. In order to sustain this population you need an attitude of gratitude towards a few pests – they're feeding the good guys.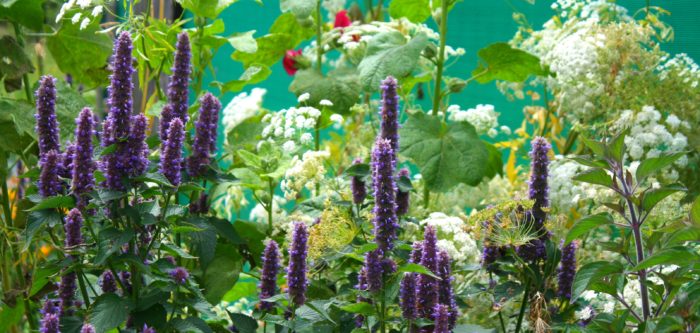 This kind of garden (mine by the way) is heaven for beneficial insects. Nectar + pollen rich + spray free. Building your garden of Eden takes time. Every season add a few more perennial companion plants and after a few years you have year round flower and loads of habitat.
Who's Eating Who (the pest and the predator)
Check out the array of bugs hanging out on your plants (a magnifying glass is super helpful.) Where there's a pest, there's also a predator. Probably a few different types of each. Rushing in guns blazing wipes out all the good guys as well.
Identify all the players at the party with the ever helpful google and figure out who's the pest, and who's eating the pest.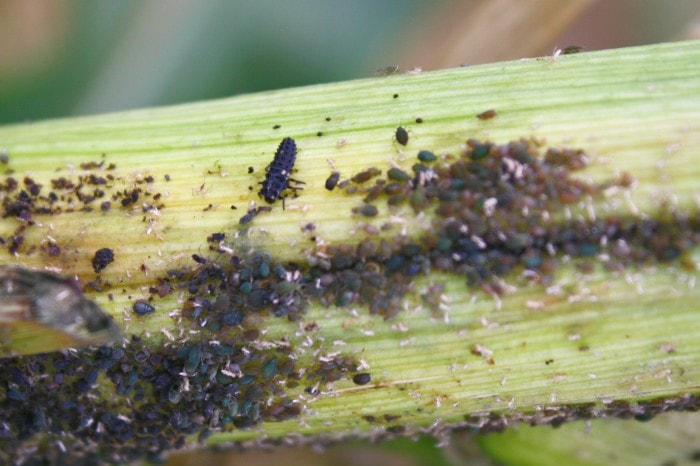 There's a-lot going on on my corn.
There are brown puffy parasitised aphids about to give birth to a heap of new parastic wasps.
There are empty brown aphid mummies – the parasitic wasps have already left.
Ladybird larvae are eating aphids like there's no tomorrow and there's a few ladybird larvae pupating as well – more ladybirds on the grow!
Needless to say I did nothing. Nature had it all in hand and my beneficial insect population was exploding daily. To squash or spray would've been counter productive. So yeah, worth it to find out whats happening before you pull the trigger.
Be Strong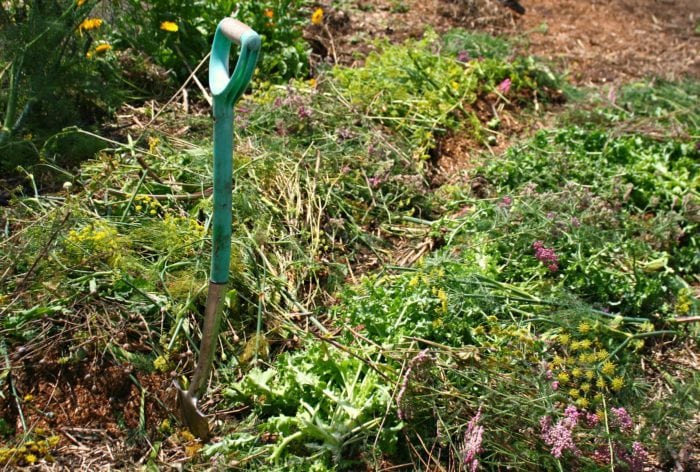 What a difference to our pest levels when we garden in a steady, robust, natural way.
Look after your garden well by watering and feeding properly. Artificial fertiliser, too much manure and overwatering creates sweet, soft, sappy growths that sucking pests adore.
Go gentle on your soil if you're at the beginning and your soil is sand or heavy clay. Plant more greencrops than crops or spread lots of compost – either is fab.
Meet all the needs of your plants. Plant with the seasons – heat lovers when its hot and those that prefer cool when its cool. Don't fertilise legumes and do fertilise heavy feeders. Happy plants (like happy people), have a heap less problems.
Grow resistant varieties. Talk to gardeners in your area. Experiment with varieties until you find ones that the pests don't bother. Save the seeds of those.
Be cunning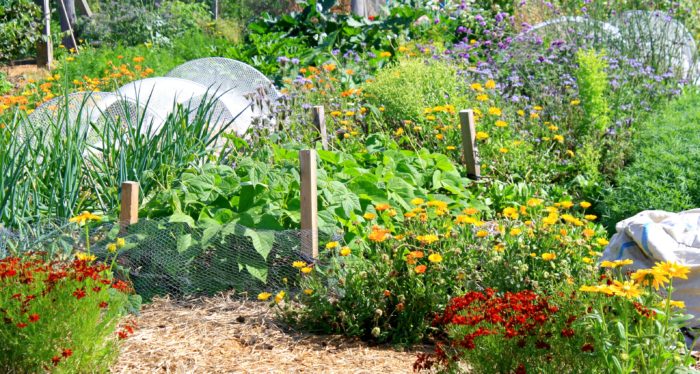 Pests hunt by either smell or shape. So be smart and use disguise, camouflague and distraction (ie your parenting toolkit). If carrot fly is a problem at yours be judicious when you sow so that you don't need to thin much – the smell attracts the fly. Or spray with seaweed before thinning or grow alongside strong smelling onions.
Disguise vulnerable plants by growing among different shapes and smells. Eg carrots with spring onions and calendula or tomatoes with nasturtium, marigolds and parsley.
Distract pests away from your vegies by growing plants they prefer close by – this is called catch cropping. Eg: seduce shield bugs away from tomatoes and beans with mustard or cabbage whites with nasturtium.
Regular seaweed or fish foliar sprays not only boost your plants, but disguise scent.
When to act and when not to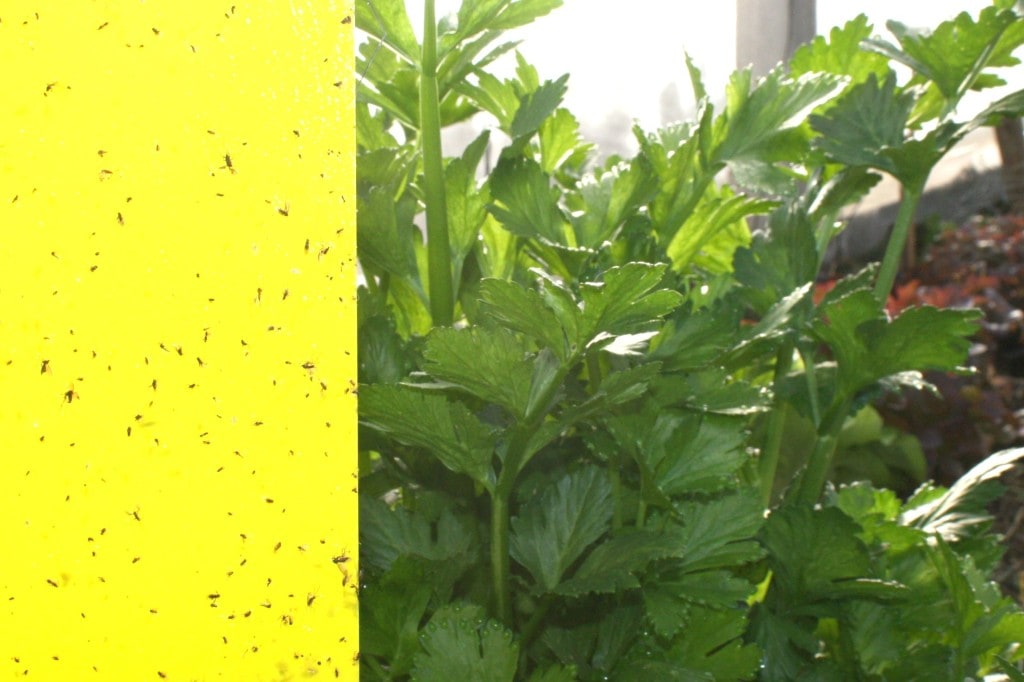 The point at which you step in and halt the pests is up to you – there is no right way, no one way to go.
You choose whether you jump on them right away or pause and wait for the beneficials to turn up. How important the crop is plays a big part here – for instance I wont, at this stage, let psyllids loose on my tomatoes but will let aphids go a ways on robust crops like corn or brassicas.
The more established your garden is + the more faith you have in it, the easier it is to let things take their natural course. Letting pests go a bit here and there, as and when you feel safe enough, is the ultimate way to build beneficial insect populations.
In the early days of your garden you may want to get pests early – a couple is easy, an epidemic is not.
Spray free ways
Use your fingers. Pests like snails, aphids and shield bugs are easily managed by picking off and/or squashing.
Cover vulnerable crops with fine insect mesh like wondermesh. This is my most used solution – for potatoes to avoid psyllids, brassicas to avoid cabbage whites and carrots to avoid carrot fly.
Make traps. Yogurt traps for slaters, beer traps for snails and leave boards or orange skins out to trap slugs.
Unsafe spray
Don't use knock 'em all dead (the good and bad) sprays like Pyrethrum, Rhubarb, Garlic and Derris Dust (which is by the way a neurotoxin).
Don't use chemical sprays. Even in the driveway – spray drifts into every nook and cranny, going far further than you think.
Safer Spray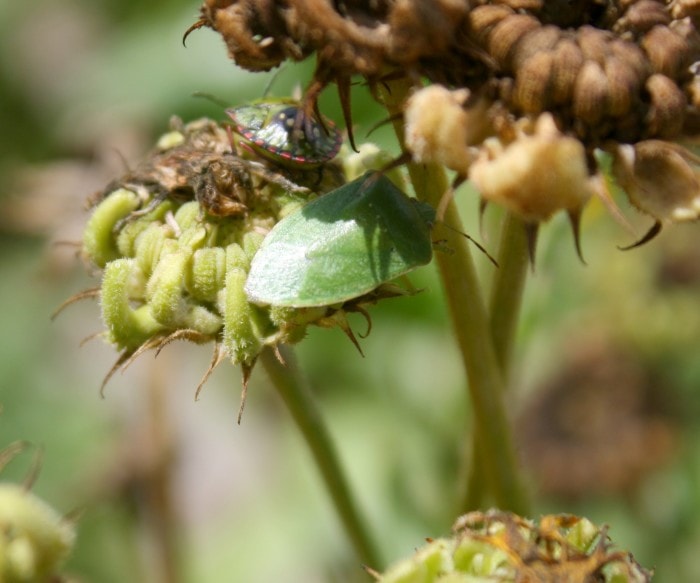 Spray is my last resort. Even safer spray resounds somewhere.
The ultimate is no spray, our gardens are stronger the less we intervene. Perhaps one day my garden will not require even Neem, but for now there are times when I choose to and I am so grateful to have it in my toolkit.
Neem
Neem must be ingested to work. Death comes to insects that suck or chew the foliage which is what makes it safer for bees and beneficial insects – it is not a contact killer. Contact insecticides, even natural ones nail everything they touch.
Neem is super easy to use and can be mixed with any liquid feed for the ultimate garden spray. Spray for complete foliage cover and do so in regular fashion to keep up with egg hatchings. I use it as required to manage psyllids on my tomatoes, aphids on citrus, blister mite on Pears and shield bugs on my raspberries.
BT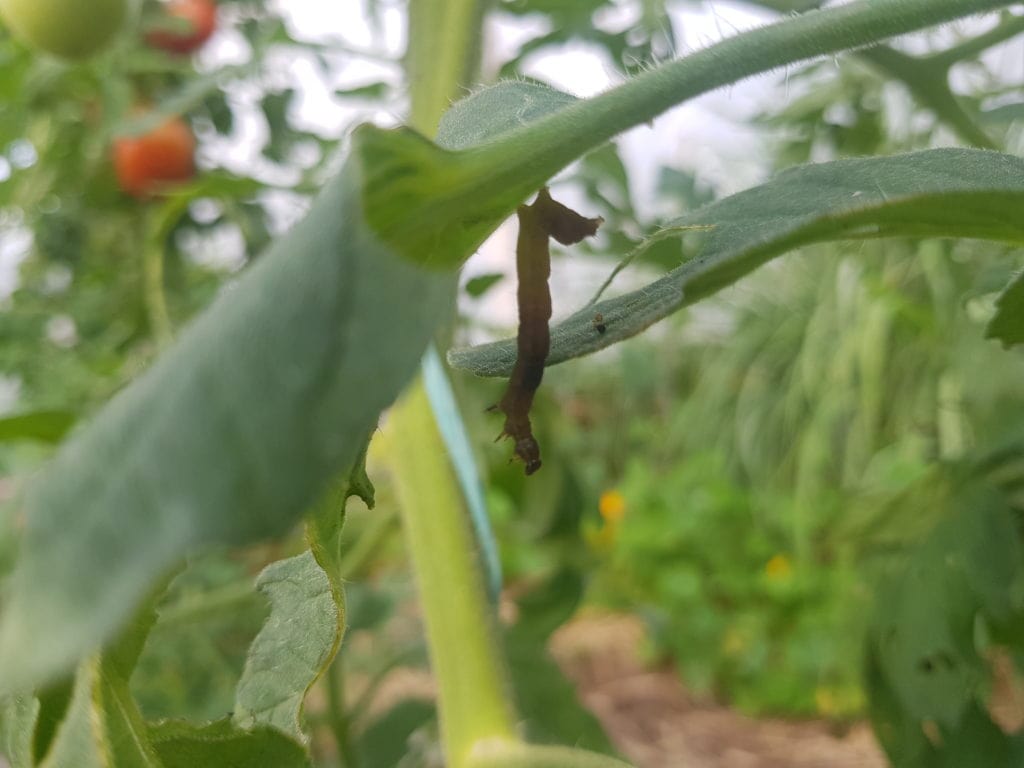 BT is Bacillus Thuringiensis which is the active ingredient in Dipel and Kiwicare caterpillar killer and like Neem, must be ingested to work. I have it in my cupboard incase of emergencies.
BT is caterpillar specific which is what makes it safer for bees and all non caterpillar beneficials, but still its a toxin. Just remember that monarchs and all butterflies begin as caterpillars, as do moths who are an important food source for our birds, help with pollination and play a similar role as frogs do, as an indicator of eco system health. Where you can, use an insect mesh or opt for digital control.
I used to use BT on brassicas without regard until I put the dots together building the butterfly house at Shannon School. Since then I diligently cover all my brassicas with wondermesh instead. I cant tell you how much easier it is than mixing and applying spray! The only time I've used BT in recent years, has been on looper caterpillars in the greenhouse. My bad for not noticing them and catching them early, but there you go. Life's for learning.