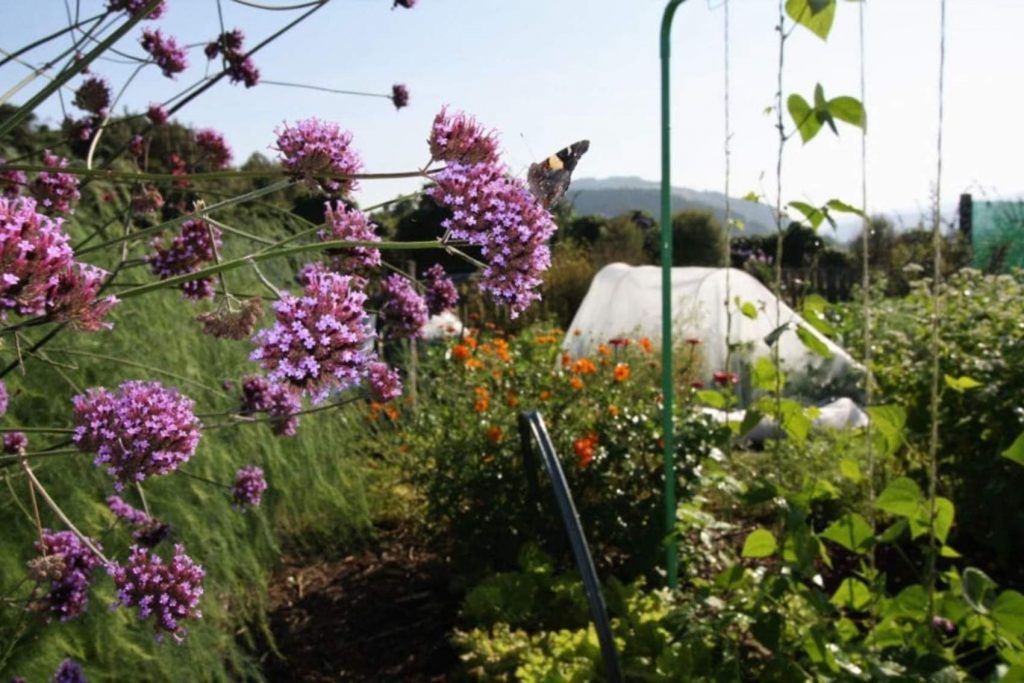 Weeds are, on the whole, not that tricky. Sure there's a select few that are dynamite, but that's to be expected given that we live in one of the weediest places on earth. Find my ideas for the really tricky weeds, at the bottom of the page.
Today I'm sharing my top 4 weed management techniques to sidestep you past herbicide. Clever design eliminates the bulk of it – my 5 simple ways kick start your easy garden life. Once those are set in motion, I've 3 tried and true's: smothering with either mulch or fabric, outcompeting with well chosen plants, and for difficult spots, salt. That's my simple, effective, big picture kit.
Spraying herbicide is an emergency call while establishing difficult tracts of land, not at all ideal on a regular basis. If a weed has you beat, at the very least use a roll on while you come up with a cunning plan. Spray drift is the crime of the century.
I hope you use these ideas at home, at school and in your community. Spread the word.
Smart Design
Rethink your edges!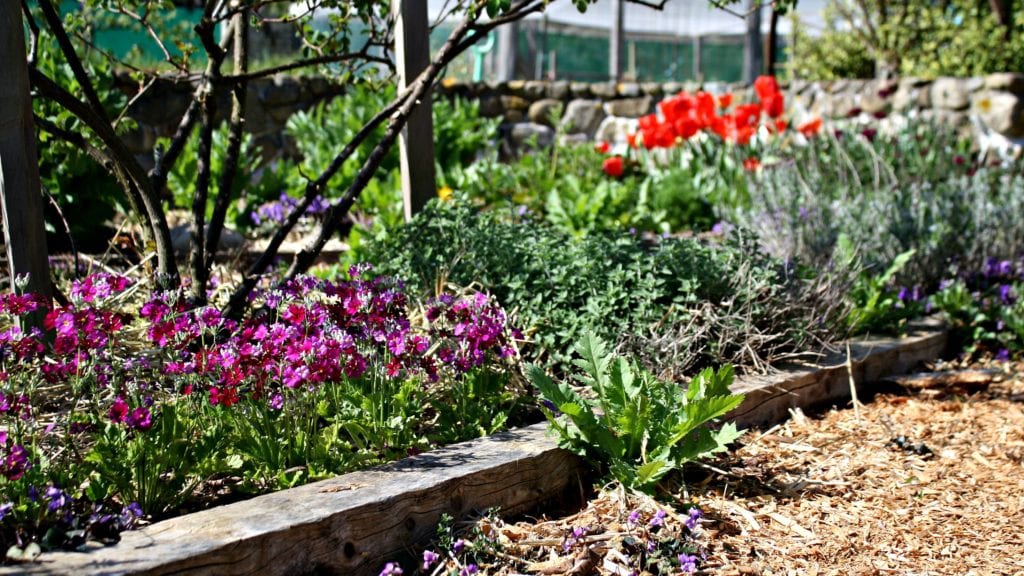 Edges are the highest maintenance bits for least reward – what a huge reduction in energy when we get rid of the dire combination that is grass, meeting a hard edge. The stones you so loving arranged, the places where fence meets grass, and as for brick edges… aggh, so fiddly!
Far better to create edges that fit easily with your form of grass management. If you are mowing, then lets redesign them so that the mower can get right up to them without the 2 step process of mower then weedeater. Or even worse a 3 step process if you then have to pull the grass from between the stones, or the blimmin bricks.
Removing the hard edge is revolutionary!
Sure its not a linear look, but super practical. Plant your garden densely and you don't need to worry about birds scratching mulch onto your lawn.
Instead of hard edges, use evergreen plants.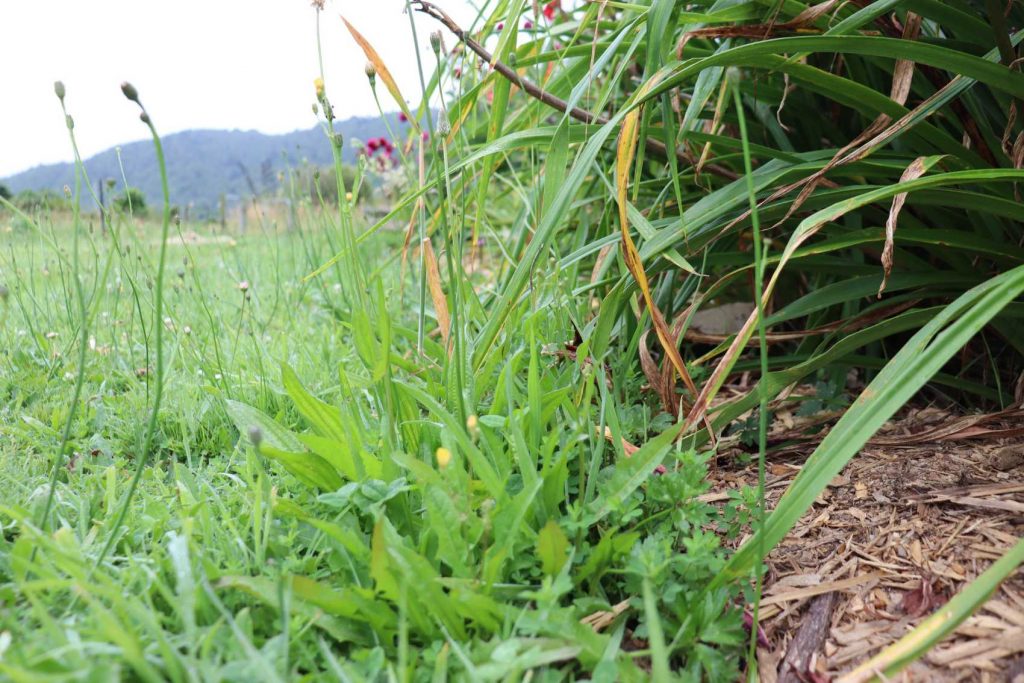 The function of plants that inhabit the edge is to slow the grass coming into the garden. And they need to handle being mown right up to. It all depends on the vigour of your grass, as to what type of edge plant you choose for this job.
While a border of dense oregano can meet an urban lawn with gentle weeds, it will be gobbled alive by my grasses! Plus I dont have the time (or inclination) to do this kind of management. Perhaps you do and perhaps you love it – go for it! If you don't, design saves the day!
In bigger gardens and spaces with more vigorous grass and weeds, use dense evergreens to block light and discourage the advancement of the grasses from lawn into garden. I like plants with arching foliage – like rengarenga, lomandra, sturdy grasses, astellia or emerald gem flax, The arch provides space for the mower to whip beneath.
Take your time with choosing varieties. Start by noticing the plants that hold up to your grass and the ones that don't.
Plant the space in front of fences/ buildings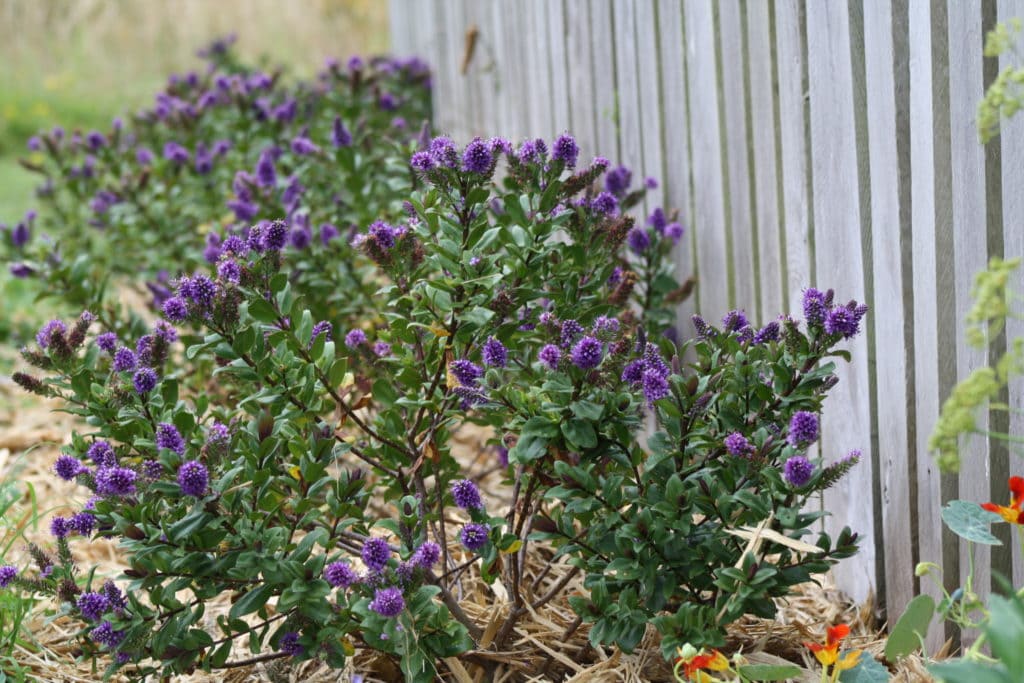 Where fences or walls of buildings meet the grass, plant with low growing, dense, robust specimens that can handle the mower or weedeater or Niwashi.
The goal is to either tuck beneath the edge of the foliage to get to the grass, or trim a little of the foliage in order to take care of the grass right to the edge of the plants. No more 2 step process! Yuss!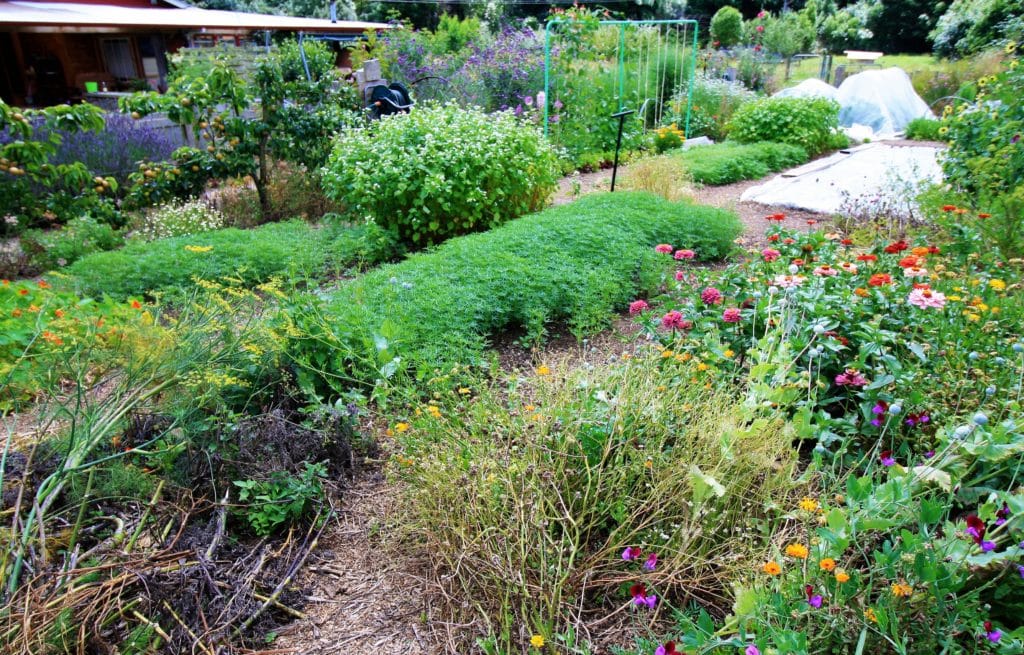 One big outside edge is heaps less work!
From our house to the outside edge of the vegetable garden there is no grass – all paths are mulched and where the garden meets the grass – there are well chosen sentinel plants that can be mown right up to.
More work to set up but heaps less work to maintain. Design wins the day!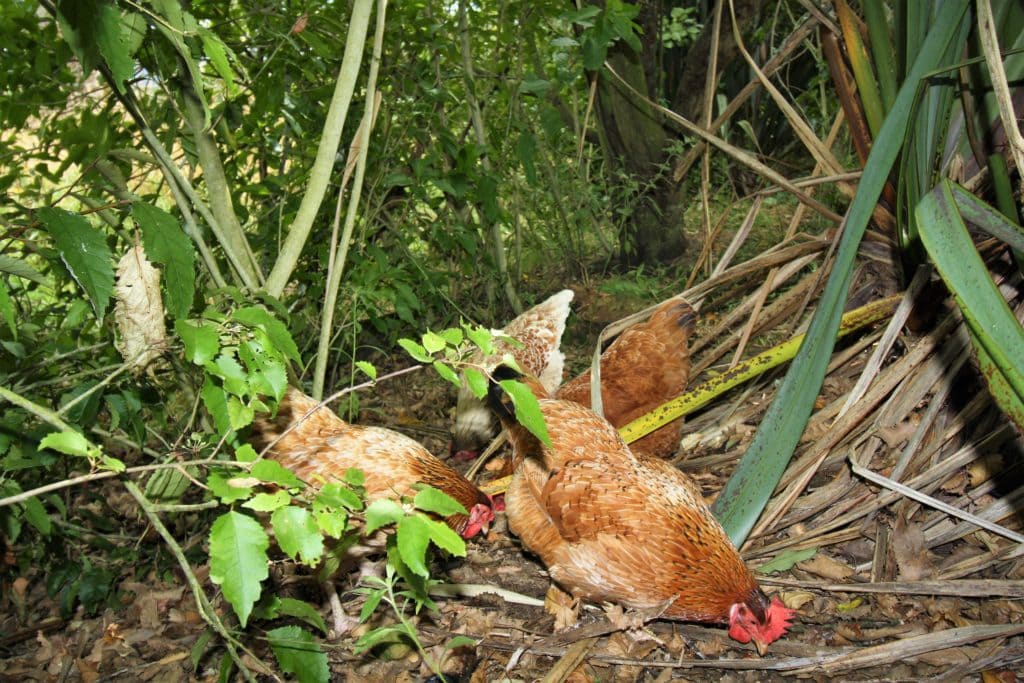 If your neighbours wild jungle seeps into your place, you need a weed break, something to stop the weeds (most likely vines!) clambering in.
In the case of vines, planting these areas up is a mistake – its grist to their mill. For less troublesome weeds though, planting is awesome. The trick is to use trees/ shrubs that are more dominant than the weed you seek to beat.
Weed break ideas:
Set your chook run up along this edge, or run stock.
Or build a garden shed/ running track/ tennis court here.
Or leave a 2-metre weed break along this edge and whip along with the weed eater/ mower/ goat every now and then
For sure the weed invasion is extra work but give me weeds any day over someone who sprays herbicide. Bless your neighbour for promoting life 🙂
Smother
Know that weeds change off the back of soil improvements, so long term this is your ultimate goal. Meantime, manage them easily by blocking light with either of these 3 strategies.
Prepare weedy ground for your vegie beds in the best of ways – by melting the weeds back into the soil. Not with spray – egads! but plastic, which doesn't sound very eco but its awesome and so blimmin easy. Carpet is another option, but hot plastic is the best.
Simply lay the black plastic in place with planks or stones – its no use if it blows away. The hotter the weather the quicker the weeds die off. As soon as they've dissolved, peel it off, lay compost and plant.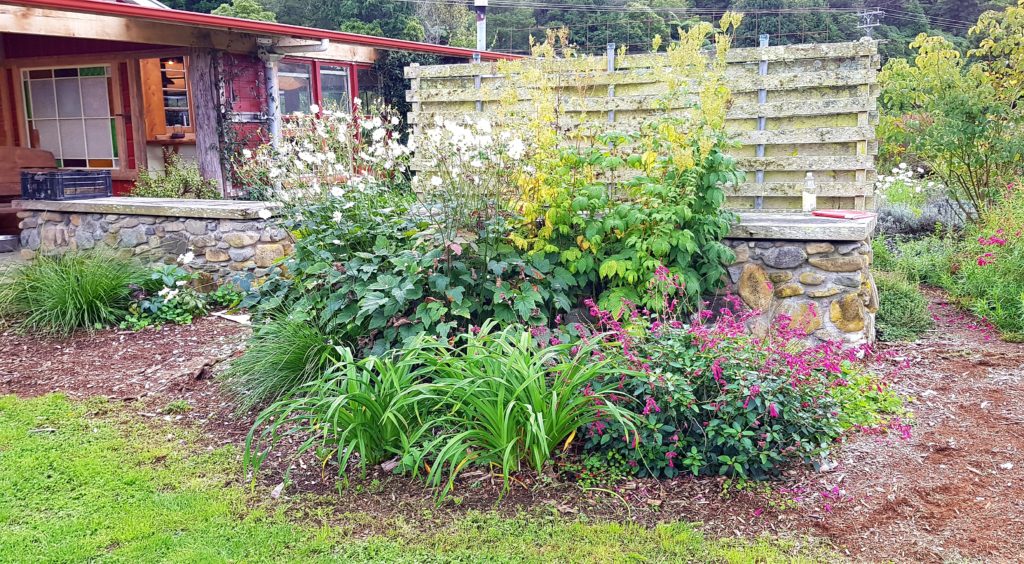 Mulch is the antithesis to herbicide. Smothering with mulch builds soil at the same time as blocking weeds. Weeds that pop through, (and they will pop through!) are easily removed. Or even easier – just keep piling mulch on top.
For extra staying power lay newspaper or card beneath the mulch. Do this on any weedy spots in the garden (way better than tearing the weeds out) and on any bare soil between plants, before the weeds get away.
Outcompete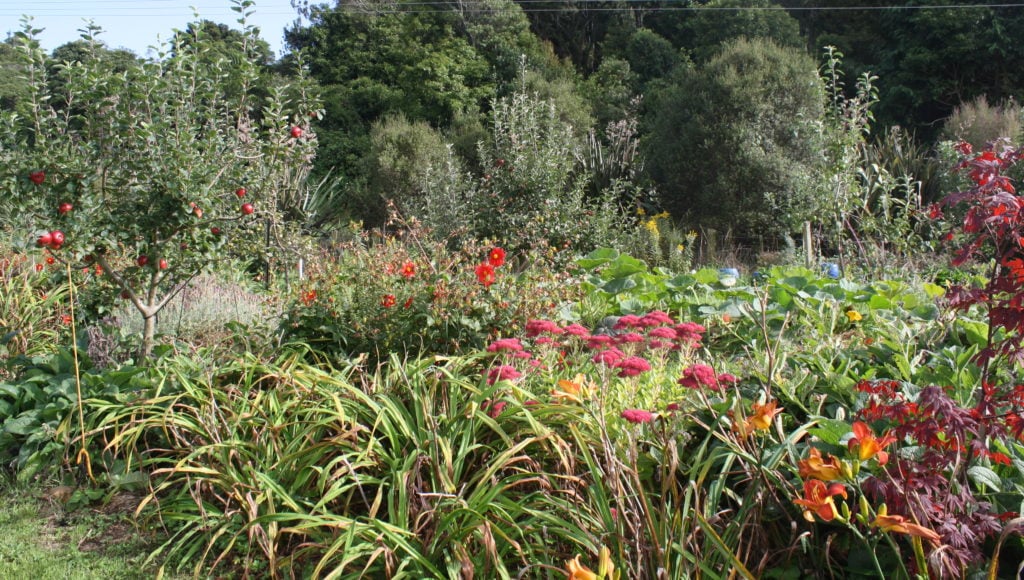 Competition takes a bit of cunning. Know the weed you are dealing with first, in order to best choose a worthy competitor. Plant something that's bigger and bolshier, evergreen is smart, as is perennial and fast. A coloniser plant that suits your area is usually the best bet.
Use one of the smother techniques above first, then as soon as the ground is clear, plant it up, without delay! because as quick as a flash, those weeds will be back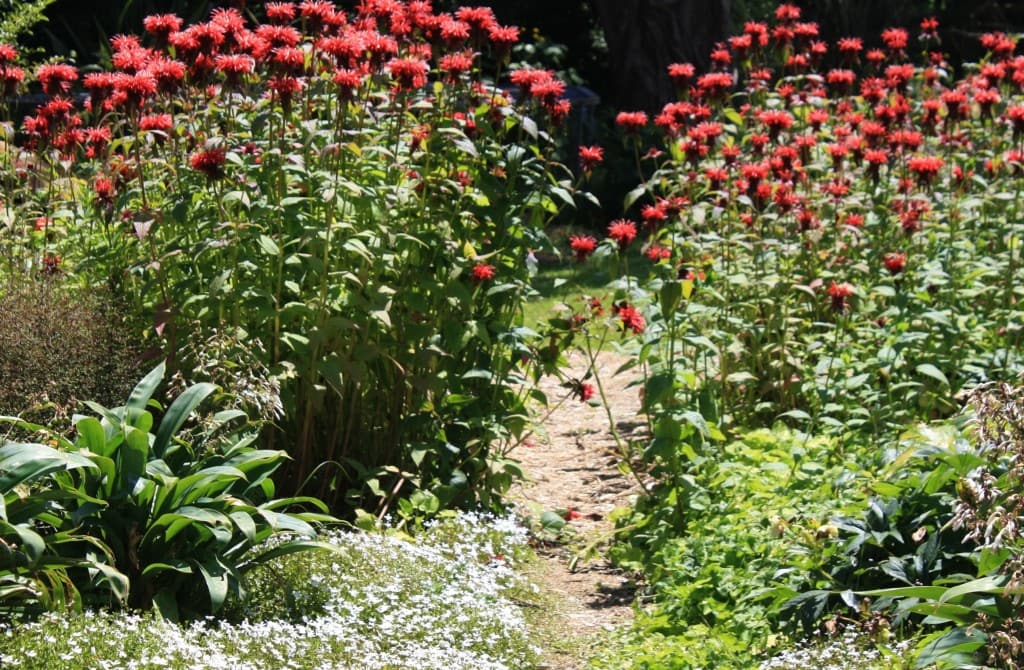 Gardens that are jammed with plants leave no rooms for weeds – less work for you and pretty as a picture.
Plant for complete ground cover beneath trees and between shrubs, saving time + the planet because these areas need nothing doing, but admiring.
Salt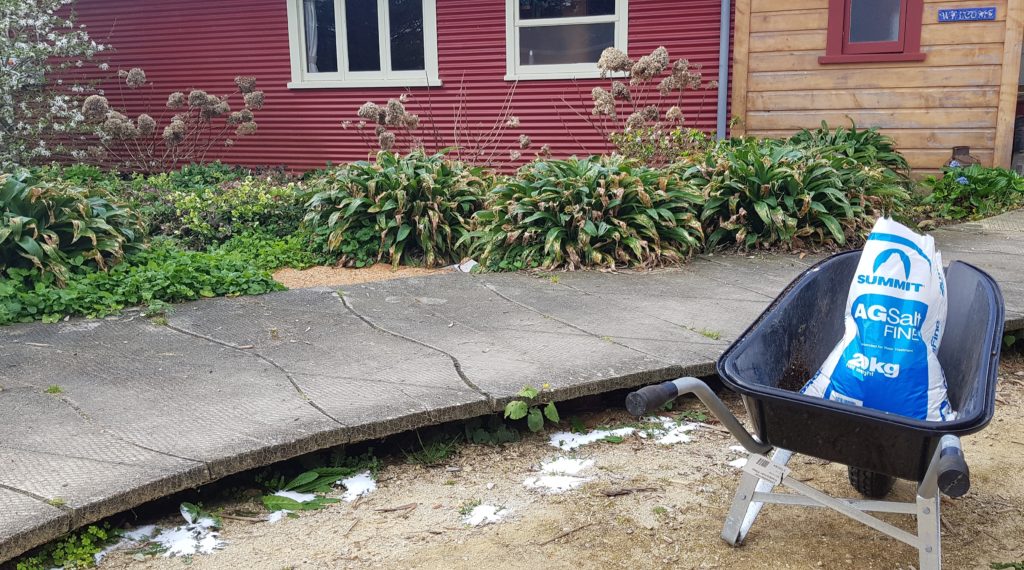 Ideally we outcompete the weeds with more dominant plants, but there are odd moments where that's not possible. Driveways are one such. Salt is the answer.
My next drive, I reckon will be a rotten rock base and I'll just let the grass have its way and avoid the circular job that is clearing weeds off the drive, back they come, clear them off, round we go. Its like outside housework.
Meantime, salt is fab. You don't need alot especially if you apply it right before a rain. I put the sack of salt in a wheelbarrow and use an old plastic bottle with the bottom cut off as a scoop.
Buy fine Agsalt in 20kg bags from Farmlands.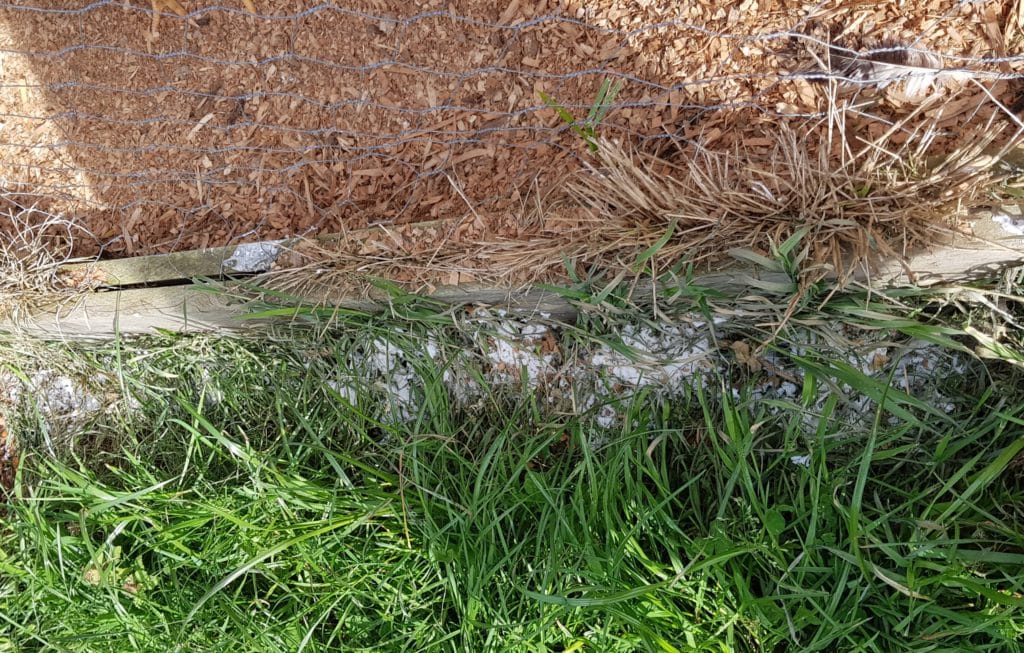 As well as the driveway, I also salt the edge where the chook gate meets the grass, to keep the gate in flow. Generally this is only a spring job, but it may segue into summer as well if it remains wet and cool.
The only turf killed by salt is the stuff under the salt. Miraculously the grass beside the salt remains, and though I know there's collateral damage to the soil biology, if I dig alongside the salt, there's still worms.
For sure, its not a sound idea to go nuts with salt – it'll destroy our soils, but for little bits at key times of the year, salt's a godsend. And fun! Trip up the normally rational people in your life. "Did it snow here?" (You know who you are)
Tricky weeds
Here are my solutions for tricky weeds: our good mates (ha!) kikuyu, convulvulus and ivy, to name a few.