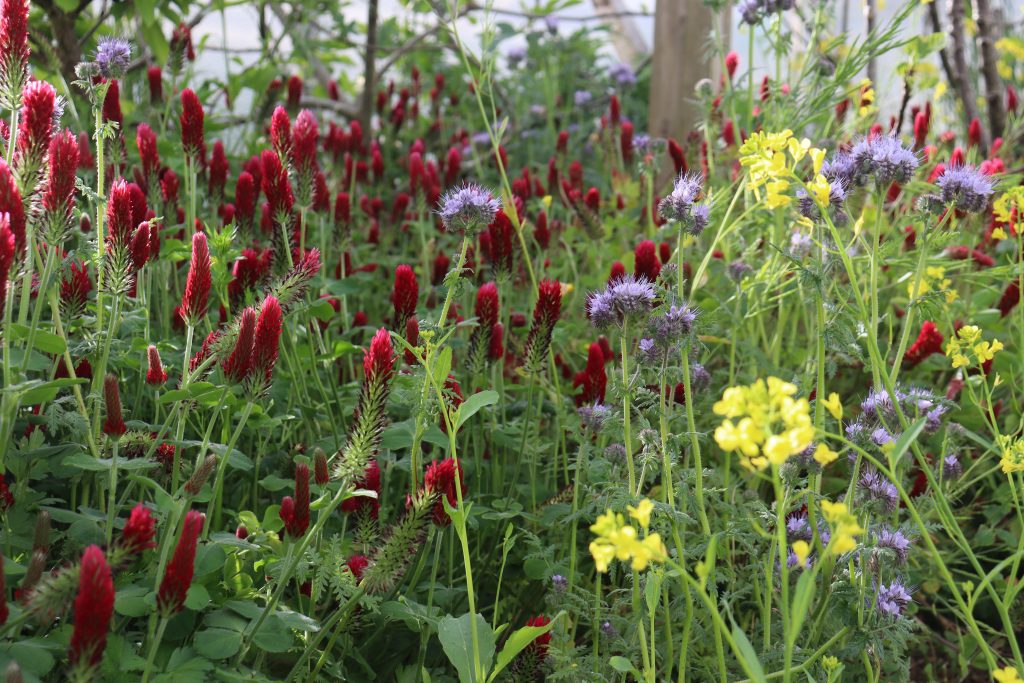 Greencrops (also called greenmanures) are awesome! Diversity, homegrown fertility + living mulch all in one.
Use them to restore soils after a heavy feeder – you use less compost this way
Sow them beneath/ beside bigger crops like broccoli, pumpkin or beans, as a life giving, living mulch
Use them for a quick, handy gap filler when time is short. The very best soil fertility comes when our soil is kept covered with plants.
Take your greencropping next level, and rather than sowing single greencrops, sow a mixture. Each plant attracts different soil organisms, draws different minerals and reaches different depths. The greater the variety of plants = the greater the variety of soil life. Huzzah! Improve your soil with this one simple thing – a mixed greencrop!
Gather a seasonally appropriate selection of greencrop seeds. Either mix them together in a jar and then sow, or sprinkle lightly one at a time, oversowing with each different type. To make a cool brew, choose:
1 or 2 nitrogen fixers: clover, lupin, broadbeans, peas, soya beans or vetch.
A tap root: daikon, borage, dandelion, parsley or chicory to open and mine – especially beneficial for clay soils.
A grass: oats, barley, wheat or rye to mop up the nitrogen and stabilise soil.
A soil cleanser: mustard, marigold, kale or radish
A flower: phacelia, buckwheat or calendula
A mineral powerhouse eg: buckwheat, dandelion, chamomile or borage
Having a good supply of seed means that as soon as a gap appears you can quickly fill it before nature gets in with the weeds. A good basic kit to have at hand is: mustard, lupin, crimson clover, oats, phacelia, daikon, borage, buckwheat and calendula.
Greencrops can be sown in even the tiniest of gaps. Get used to jostling crops, greencrops and flowers together – plants love to grow in community. This jostle does take management though. Wander the garden regularly and keep crops clear of excess growth, ensuring the plants that need light + air are getting it.
Have a go! Sow a living mulch
As a winter project, have a go at sowing a mixed greencrop beneath soon to finish brassicas. Choose a few winter friendly greenmanures like lupin, peas, broadbeans, mustard, rye, oats, phacelia or calendula.
Create light and space by snapping off the lower ratty foliage, then scatter the greencrop seed at their feet. Sprinkle a little soil/ compost or mulch on top. Gently water, if your soil is dry.
When the greencrop is at 4 to 6 leaves, cut the brassicas off at soil level, leaving those wonderful roots in play. The roots are oh so good for our soils my friends – especially heavy clay or sand who need all the roots they can get. Pre empting a bare space in the garden like this is very cool. Without the downtime and bare ground, there's less weeds and fertility stays steady – a garden in flow.